Programação do Ouvinte - 20/02/2018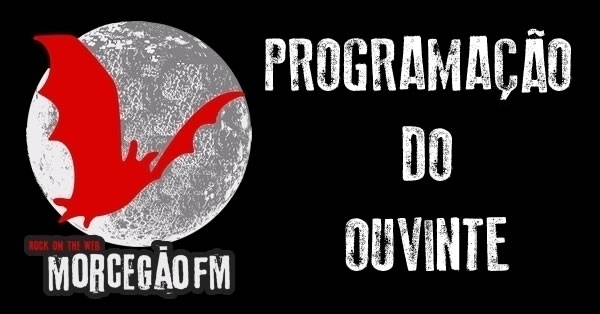 Peça e ouça sua música na hora, acompanhe as Lives da Morcegão FM no Facebook (Perfil Renato Chiquito).
As músicas pedidas durante a Live serão executadas na hora.
Os pedidos que não estiverem disponíveis na hora ou que chegarem até as 16h da segunda-feira serão executados na terça.
1) Jon Lord – Bach Onto This (Renato Chiquito)
2) Creedence Clearwater Revival - Pagan Baby (Carlito Aquino)
3) Jimi Hendrix – Fire (Jim Sheridan)
4) James Brown – Night Train - (Anderson Donaire)
5) REM – It's the End of the World (Macio Marcio Wilhian)
6) Rancid – Maxwell Murder (Marcio Pinafi de Souza)
7) Dire Straits – Romeo and Juliet (Andrea BritVal)
8) Recoil – Jezebel (Claudia Gomes De Melo)
9) Ram Jam – Black Betty (Antonio Antônio Carlos)
10) White Zombie – Thunder Kiss (Misael Ribeiro)
11) Beatles – Come Together (Luiz Xavier Cristiano)
12) Stratovarius – Elements (Wanderson Almeida)
13) Clash – Bankrobber (Mauricio Maurício Costa)
14) The Cure – Killing na Arab (Gilberto Santos Neves – Formigão)
15) Plebe Rude – Valor (Garzin Jose)
16) Fastway – Stand Up! (Aislan Pires Leite)
17) Marillion – Fugazi (Marcio Nogueira)
18) Deep Purple – You Keep On Moving (Mazinho Camanho)
19) Heaven & Hell – Bible Black (Karla Tung)
20) Echo & the Bunnymen – The Killing Moon (Renata Campos)
21) Grand Funk Railroad – Loneliness (Marcelus Yabiko)
22) Roger Hogdson – Hide In Your Shell (Ao Vivo) (Alexandre Alves Ferreira)
23) Creedence Clearwater Revival - Long As I Can See The Light (Mlf Compressores)
24) Red Hot Chilli Peppers – Let's Make Evil (Karlinhos Alves)
25) Raimundos – Puteiro em João Pessoa (Edson Douglas)
26) Dias de Blues – Amasijando Los Blues (Gabriel Ernst)
27) Deep Purple – Perfect Street Rangers (Fabiano Ortolan)
28) Gillan & Glover – Evil Eye (MrLodi Marcos Lodi)
29) Whitesnake – Ain't No Love in the Heart of City (Gill Pereira)
30) Tim Maia – Rational Culture (Alex Leal)
Ouça, baixe a Programação do Ouvinte de terça feira, 20/02/2018.
Apresentação: Morcegão
Produção: Morcegão e Alexandre Hirose
Agradecimentos: Gabriel Ernst, colaborador eventual da Morcegão FM.
---